Homecoming Save The Date
---
Arizona Athletics and the A-Club look forward to seeing you at Homecoming on October 29th, 2022. Please click the link below to register for our A-Club Saturday events.
We encourage you to pass this information on to any of your teammates that we may have missed. We can't wait to see you all back on campus in November!
Click here to RSVP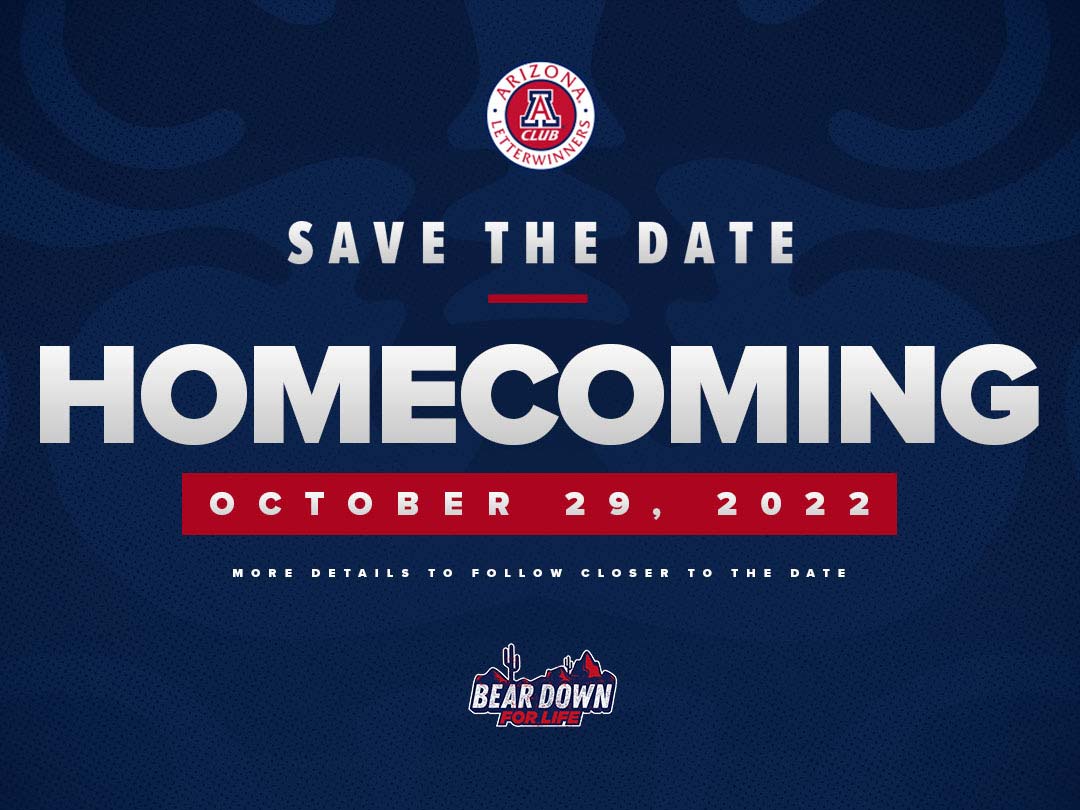 Extra Yard for Teachers Contest
---
Did you know that teachers spend over $700 a year out-of-pocket to cover expenses for their classrooms? From school supplies to books and technology, 95% of teachers don't have the budget needed to cover all their classroom costs for the school year.
Thanks to College Football Foundation, the A-Club randomly selected FOUR Arizona Letterwinners as prize recipients for the 2022 Extra Yard for Teachers contest. Each winner will receive a prize that allows them to cover some of their classroom expenses, so they can focus on providing the best education and experience for their students.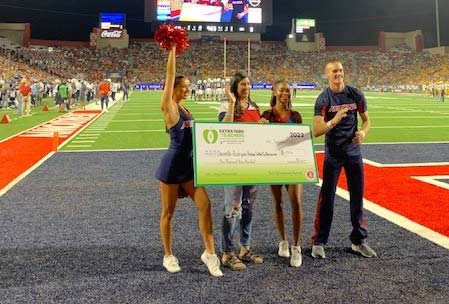 ---
Congratulations to our 2022 Arizona Hall of Fame inductees!
---
Earlier this month we were finally able to celebrate the official induction of the 2022 class into the Arizona Sports Hall of Fame. This class includes national champions, conference champions, All-Americans and Wildcats for Life. Congratulations to these alumni letterwinners, we are so proud to honor you!
---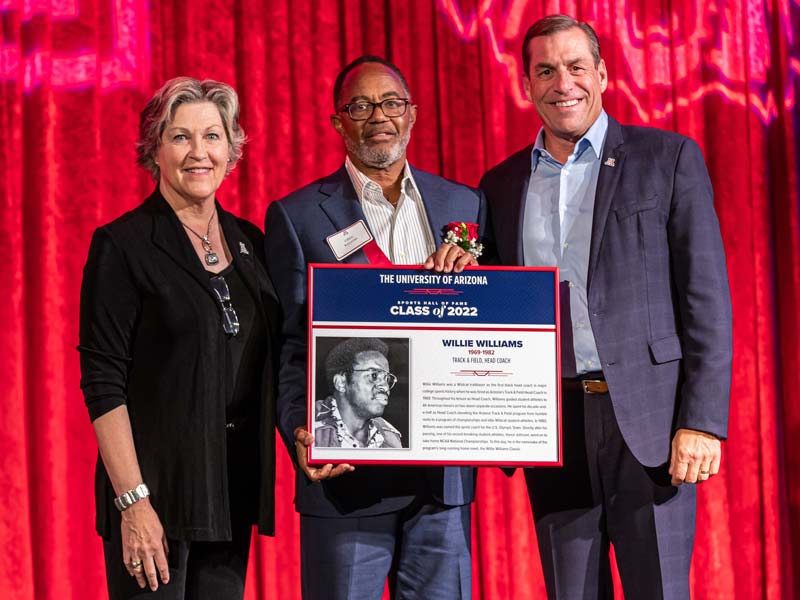 Willie Williams
Head Track and Field Coach
First African American Head Coach in NCAA (1969 - 1982)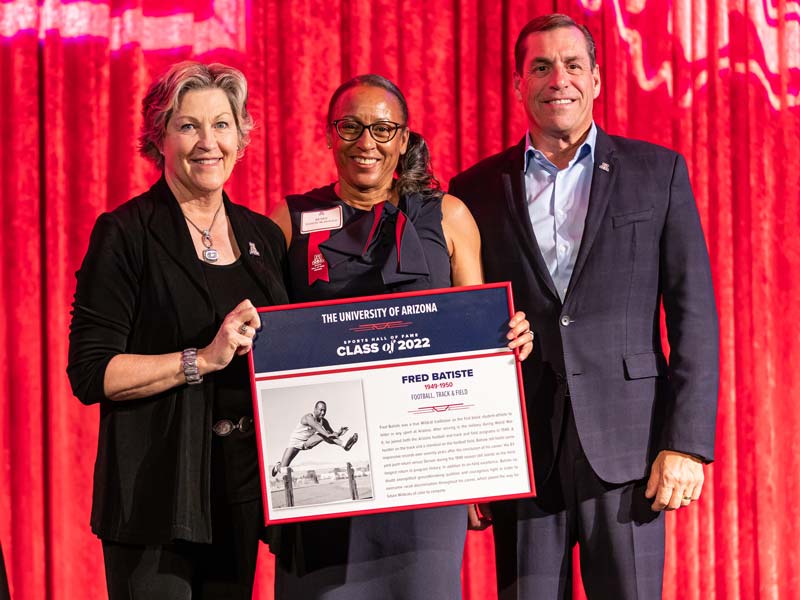 Fred Batiste
Football / Track and Field Letterwinner
The first African American Letterwinner at UA. (1949 - 1950)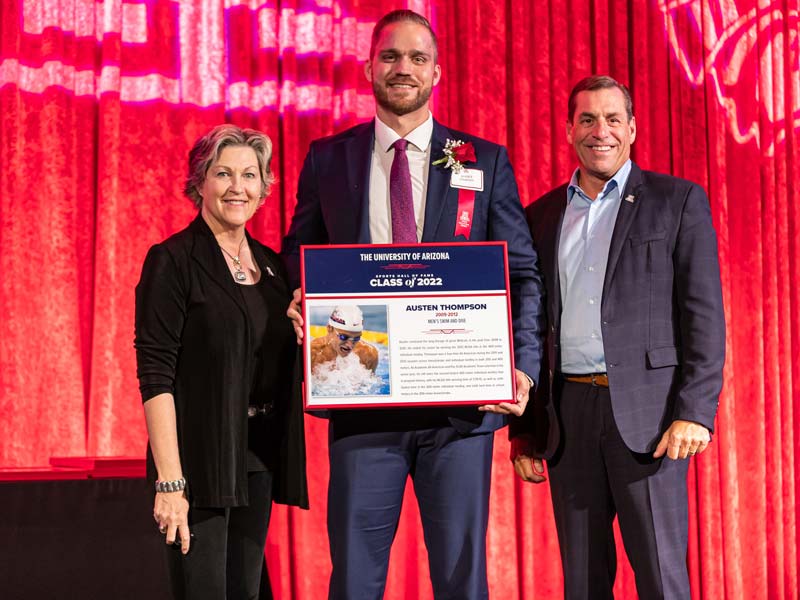 Austen Thompson
Swim & Dive Letterwinner
(2008 - 2012)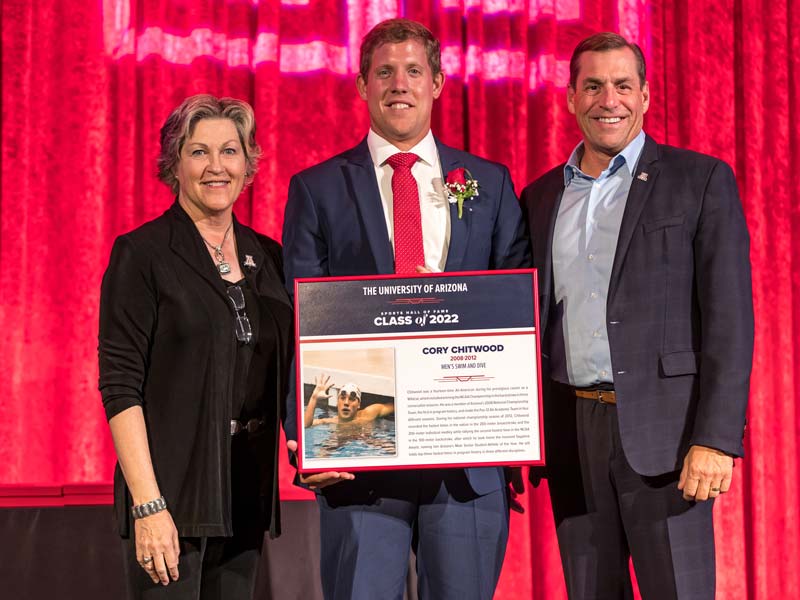 Cory Chitwood
Swim & Dive Letterwinner
(2008 - 2012)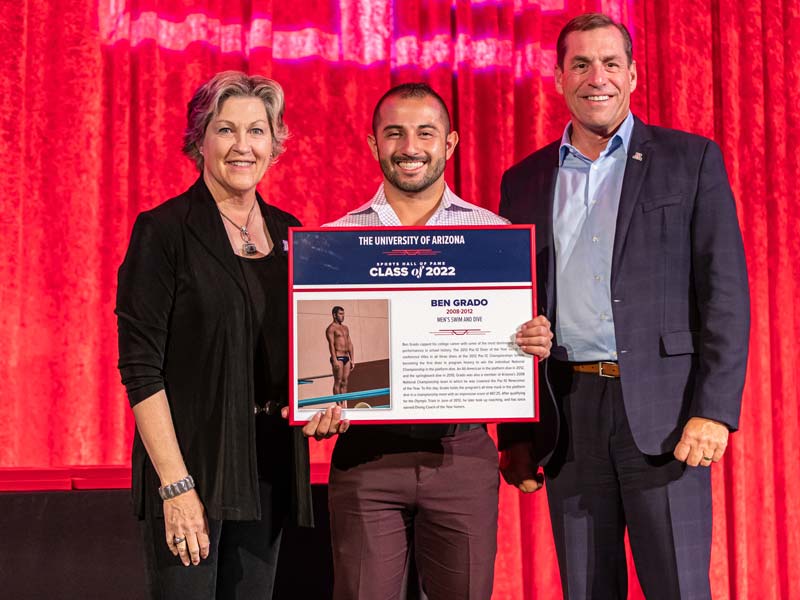 Ben Grado
Swim & Dive Letterwinner
(2008 – 2012)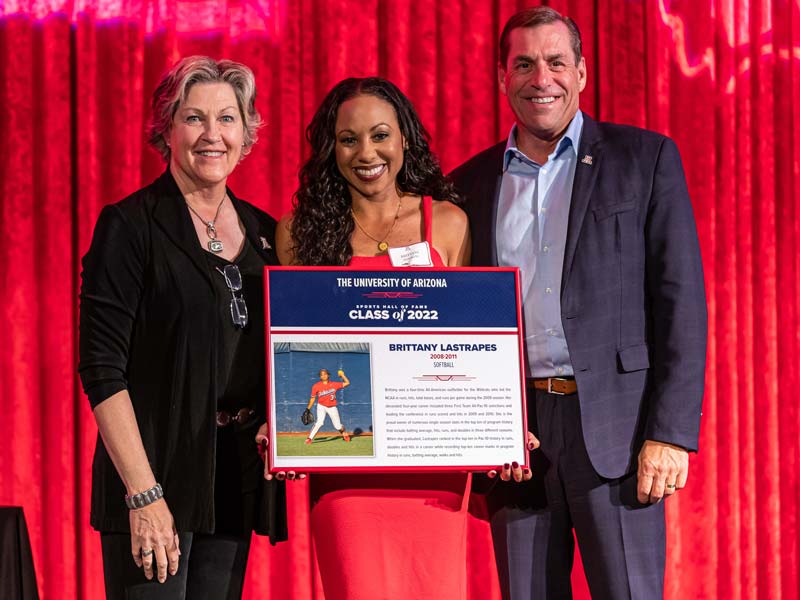 Brittany Lastrapes
Softball Letterwinner
(2008 - 2011)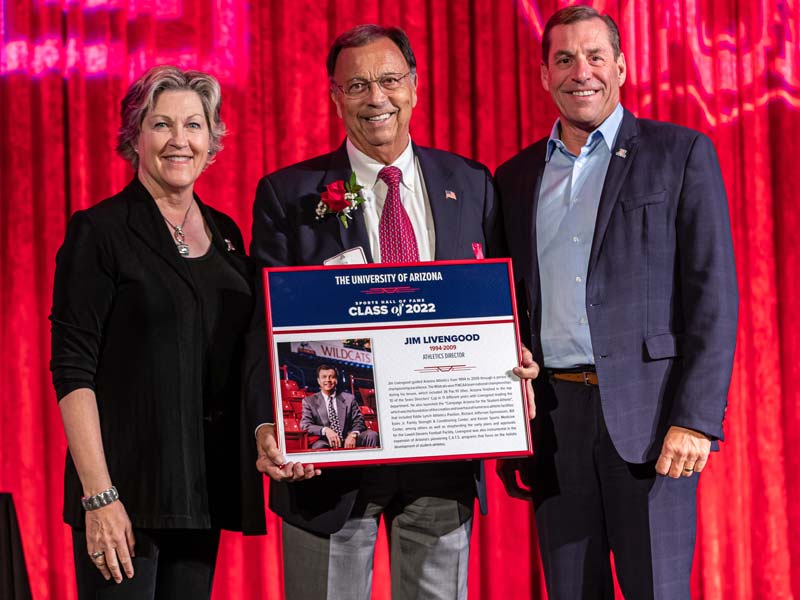 Jim Livengood
Arizona Athletics Director
(1994 - 2009)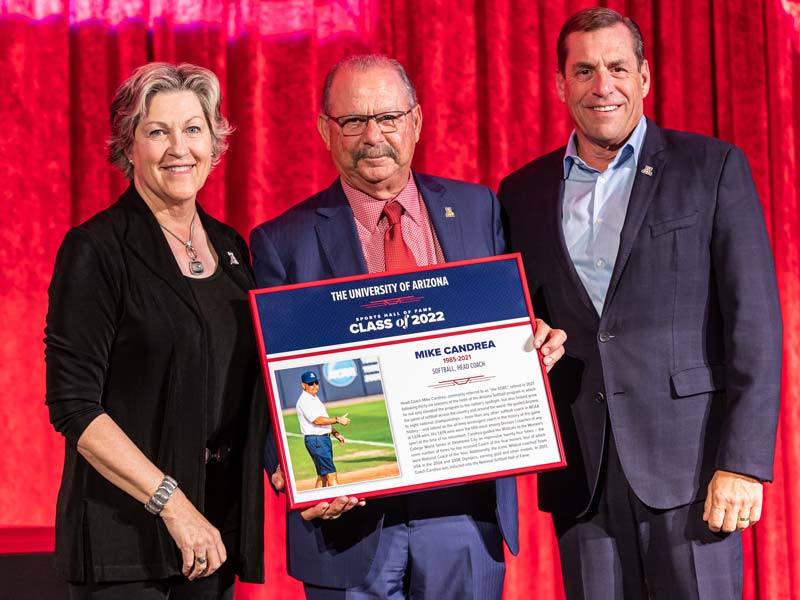 Mike Candrea
Head Softball Coach
(1985 - 2021)

The "My Team Shop" will launch on September 1st - September 12th. A-Club members can simply click on the links below, choose your items, securely check-out, and your Arizona sport specific branded apparel items will ship to you in about 7 weeks after the shop closing date. Happy shopping.
A-Club was proud to welcome 65 Tennis alumni letterwinners back to Tucson for our Tennis Reunion on September 9th- 10th. Letterwinners reconnected at our alumni Luncheon on Friday afternoon and enjoyed watching our Football team play against Mississippi State Saturday night. We hope to see more of our Wildcat family cheering on our Men's and Women's Tennis Teams this season!
A special congratulations to former head women's tennis coach and Arizona Sports Hall of Fame inductee, Becky Bell, for receiving the John "Button" Salmon Bear Down award. This prestigious award is given to select Wildcats that provide exemplary leadership and community service to the University of Arizona. Becky has long been a champion of our student-athletes, our tennis programs, and all of Arizona Athletics. Congrats on your well-deserved award, Becky. Bear Down!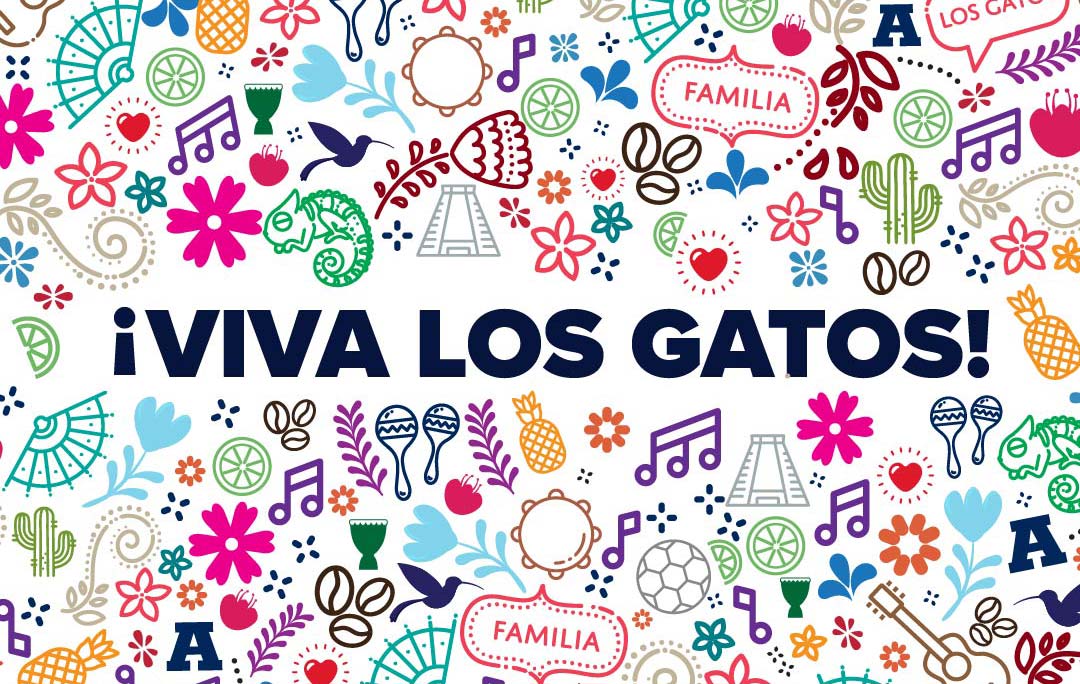 The A-Club is proud to celebrate Hispanic Heritage Month each year, as it gives us an opportunity to spotlight some of our amazing A-Club letterwinners and honor the rich Hispanic culture in our Southern Arizona community.
---
Ben Grado
Swim & Dive Letterwinner (2008-2012)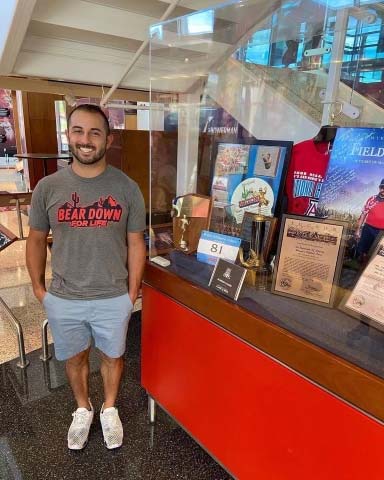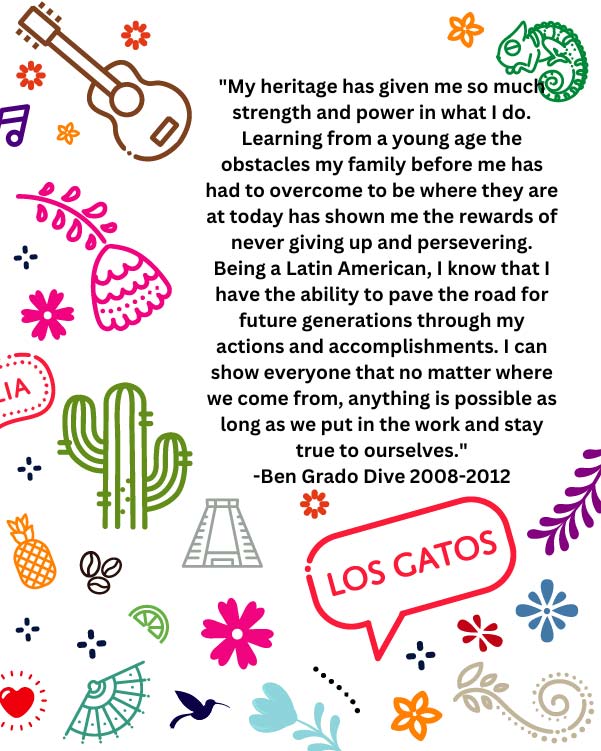 ---
Wear The Colors Spotlight
---
Share your wildcat pride on the A-Club's social media! Every Friday, the A-Club spotlights letterwinners from across the globe proudly wearing their U of A gear. Put on your favorite Arizona Athletics attire and show everyone how letterwinners Bear Down for Life!
Don't have social media but still wear your red and blue every Friday? Email us a photo with your name, sport, and years you played to the A-Club at letterwinners@arizona.edu and we can include you in our monthly newsletter.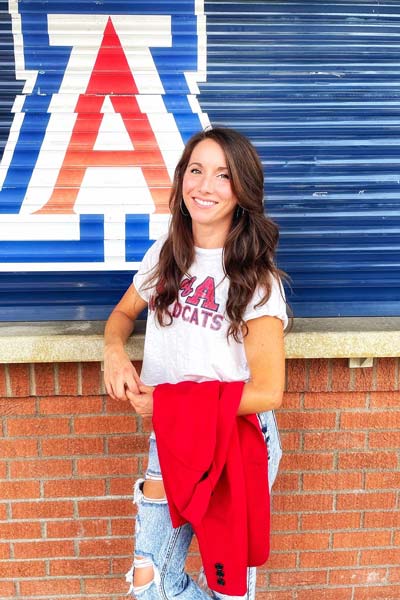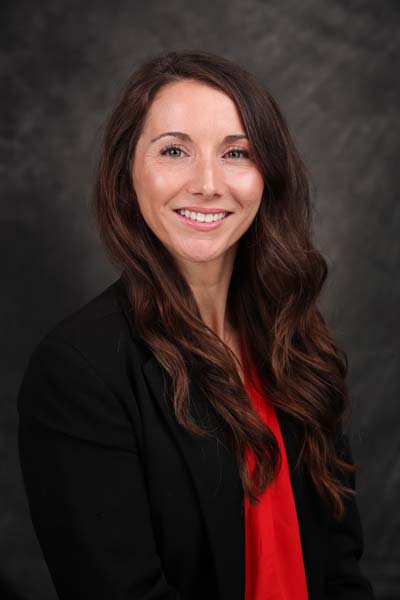 Tara Bruce
Arizona Alumna (2009 & 2021)
Getting to Know Your Wildcats!
---
We have started something new! The A- Club as teamed up with Wildcat radio 1290am to talk about your experience at UA. If you would like to take part of this opportunity, please email Letterwinners@arizona.edu and we will give you more details.
Take a look at Softball Letterwinner Debbie Day and Basketball Letterwinner Bennett Davison and their talks with wildcat radio.
The A-Club is deeply saddened to hear the recent news of the passing of our fellow Wildcats. Our thoughts go out to their family, friends and teammates.
Jim Faulks
Football Letterwinner (1960-1962)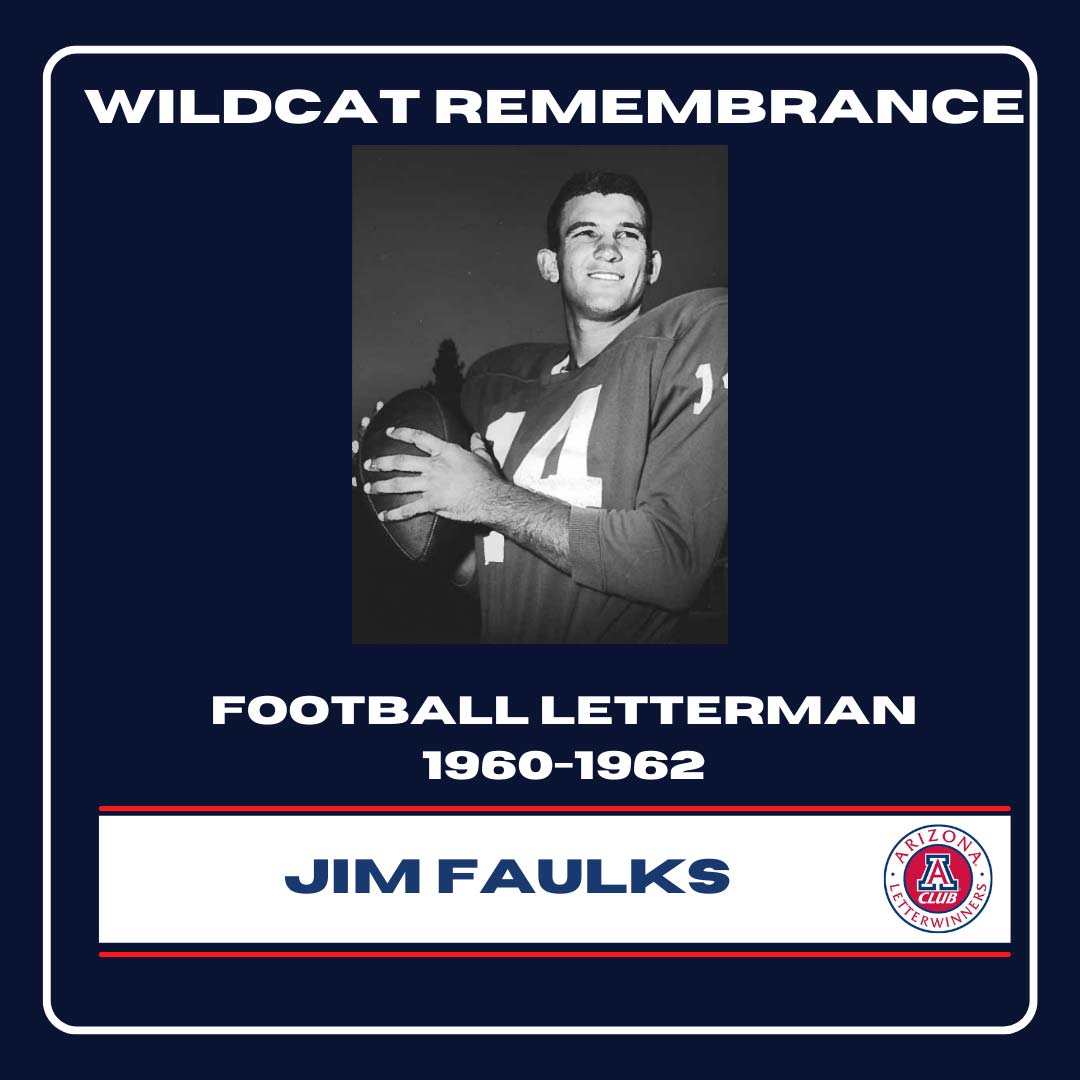 Dick Jochums
Head Swim Coach (1978-1988)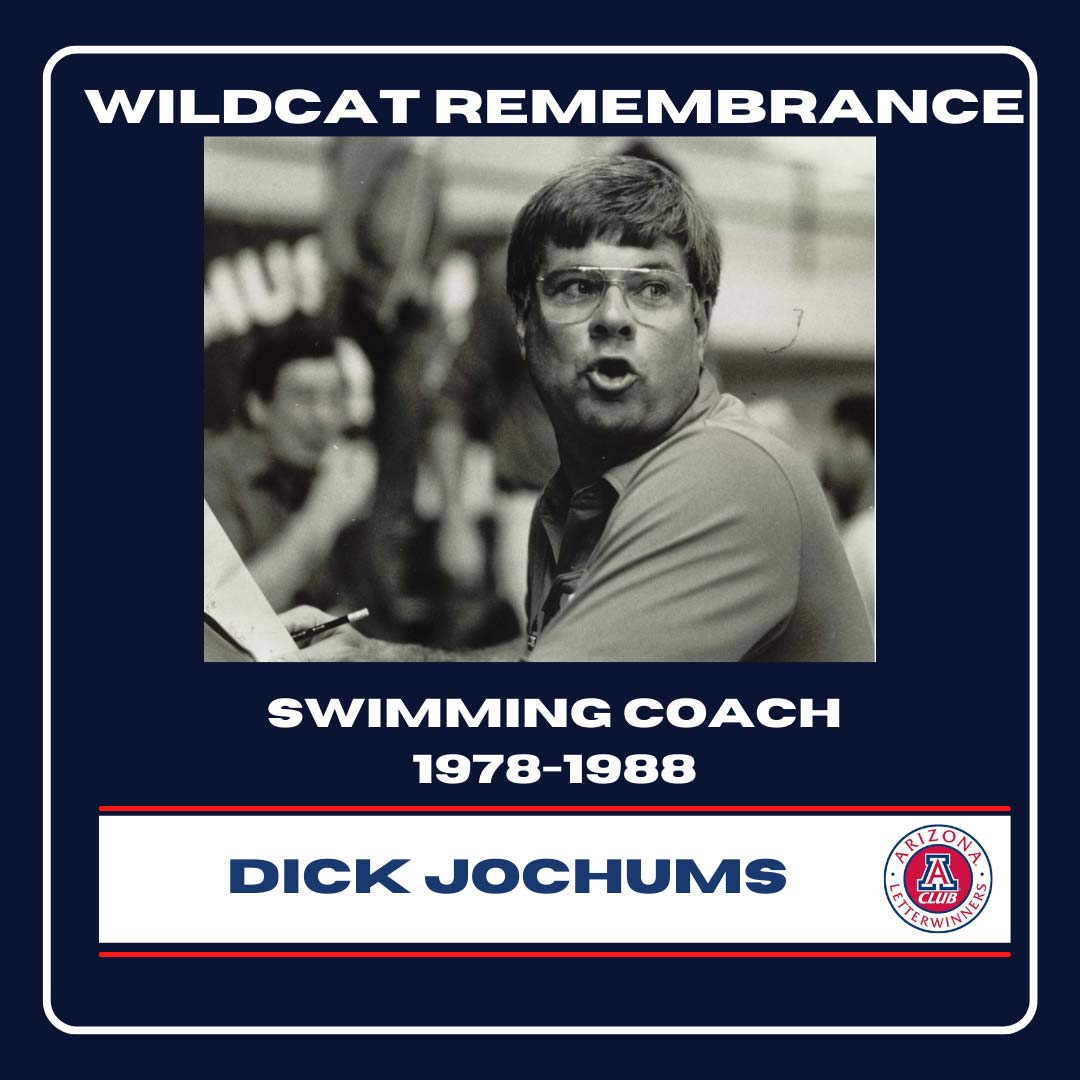 Jeff Rinehart
Football letterwinner (1983-1987)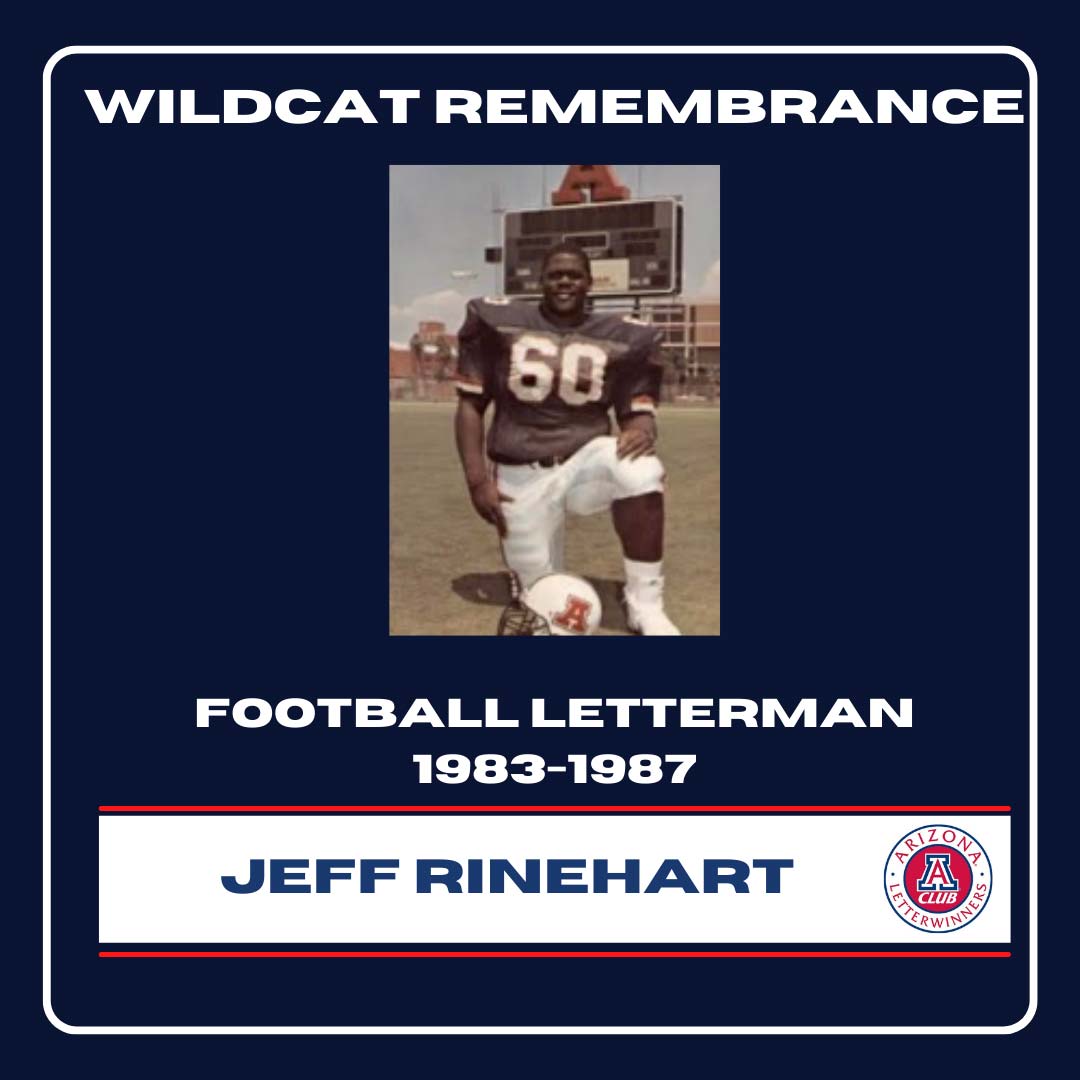 JOIN THE BEAR DOWN NETWORK
---
Join the Bear Down Network to help our current student athletes with career and life advice but also learn more about how you can elevate your own career! Please note our CATS Connect Mentorship Program will communicate through the Bear Down Network. Click here to create an account and join the network (this platform is similar to LinkedIn but, exclusively for Wildcats).
SIGN UP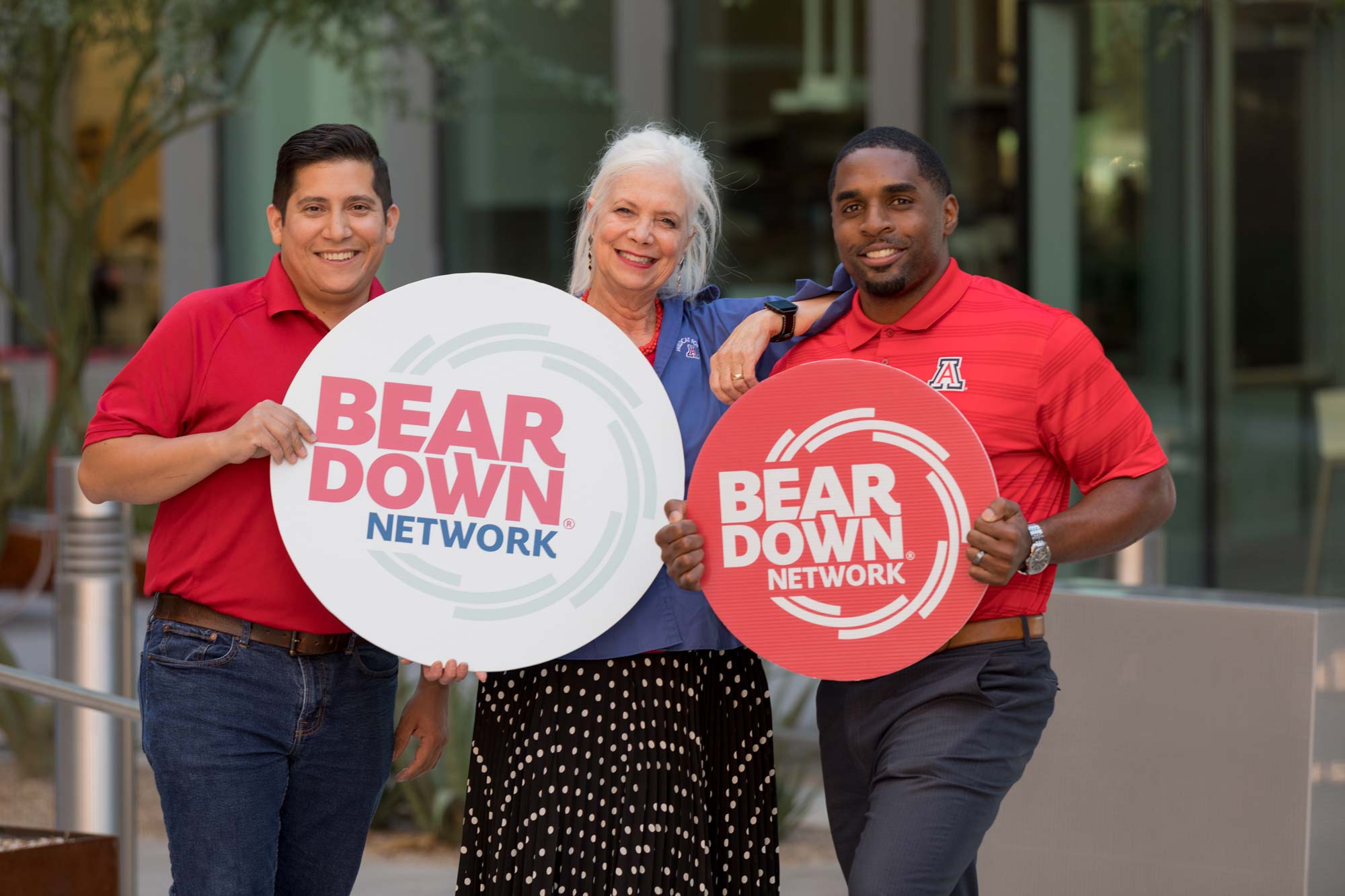 CATS Give Back
There are many ways to give back as a Letterwinner from giving your time to provide career advice to student-athletes or by giving directly to your Arizona sports program. If you are interested in giving philanthropically, click the links below.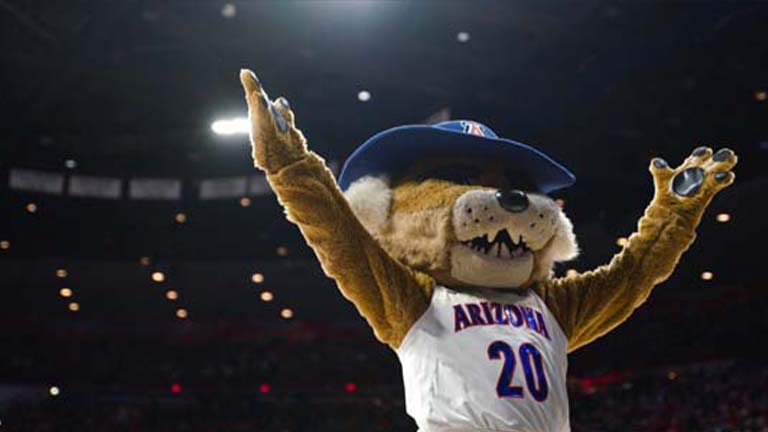 Wildcat Scholarship Fund
---
Pooled fund to benefit Arizona's 21 individual sports that supports room, board, books, fees and meals for student-athletes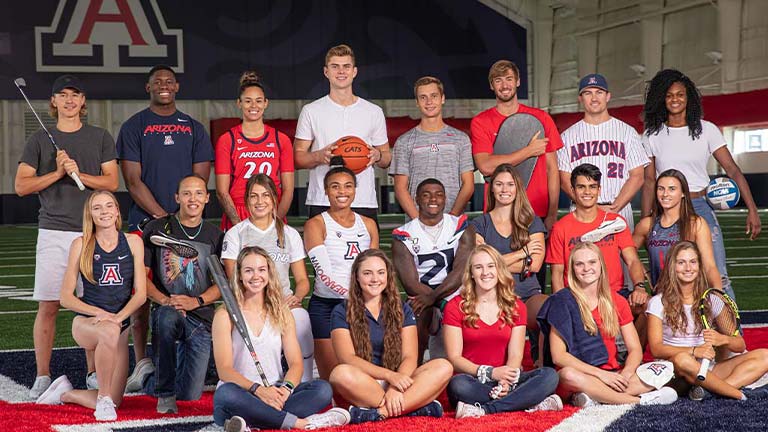 Individual Sports
---
Support individual sport scholarships or sport operations
UPDATE YOUR A-CLUB INFO
---
Not receiving our emails about upcoming events or ways to get involved? Make sure to update your information by following the link below
Do you have any photos from when you were a student-athlete or ones of you currently showing your Wildcat spirit? Send them to us on any social media platform or by emailing us at letterwinners@arizona.edu for a chance to be featured!
CONTACT US
We have a New Director!
---
---