UPDATE YOUR A-CLUB INFO
---
Have you had a recent email address change or updated your mailing address? Make sure you send the A-Club your current contact information so we can stay in touch. Click here to update your contact information.
Heritage Sports Reunion
Save the Date: Sept. 15-16, 2023
---
If you are a UA Letterwinner that participated in Women's Archery, Women's Badminton, Fencing, Women's Field Hockey, Men's Lacrosse, Men's Gymnastics, Polo, Rifle, Women's Synchronized Swimming, Wrestling, or Men's Water Polo, it's your time to block your calendar for your reunion. We can't wait to have you all back on campus to celebrate!
Full reunion schedule and RSVP link coming to your email soon!
Teacher Appreciation Week
---
Teacher Appreciation Week gave us a chance to spotlight a few of our Letterwinners turned Educations, including Football Letterwinner ('15) Jose Romero, Football Letterwinner ('10) Jovon Hayes, and Track & Field Letterwoman ('04) Amy Linnen. We know there are a lot of Letterwinners in our A-Club family that have pursued careers in Education. Thank you to every one of you that shows up to educate and inspire the future!
C.A.T.S. Forever Graduates
---
C.A.T.S. Forever is an ICA program that assists former Arizona student-athletes in fulfilling the goal of graduation for those who left school before receiving their undergraduate degree. This year, we got to celebrate two incredible Letterwinners that received their college degree, Football Letterwinner ('11) Nic Grigsby and Basketball Letterwinner ('89) Sean Elliot. Congratulations to both of you on becoming University of Arizona graduates!
Nic Grigsby, Football Letterwinner ('11)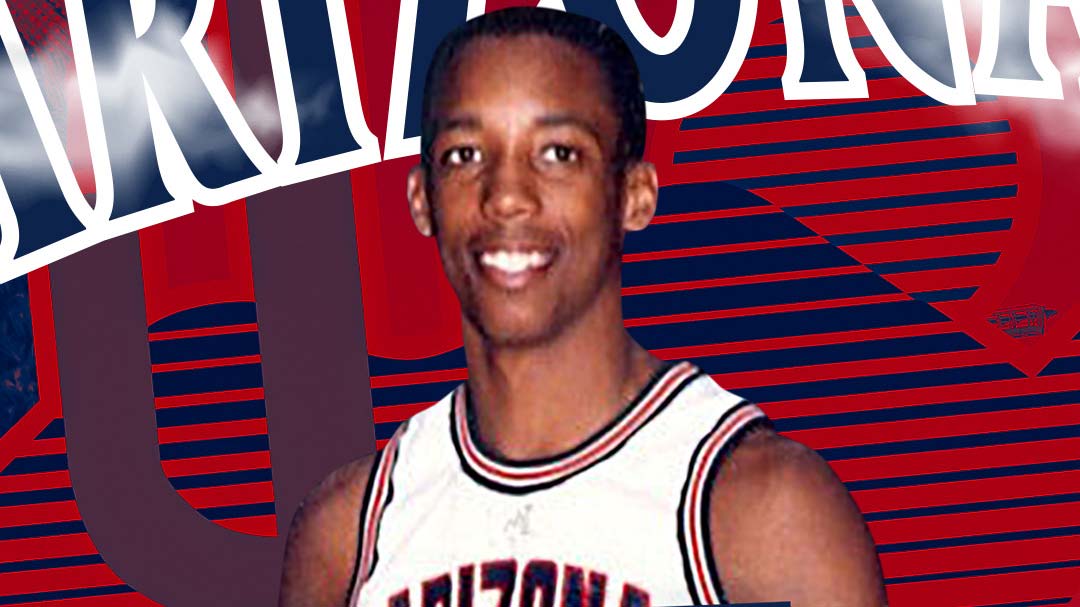 Sean Elliott, Basketball Letterwinner ('89)
C.A.T.S Academics hosted the Senior Send-Off Luncheon for current student-athletes graduating from the University of Arizona. In addition to providing the "Life After Arizona" resources guide, we had two Letterwinners come back to campus to talk to our senior class about their journey after Arizona Athletics. Volleyball Letterwoman Shardonee Scott ('20) and Football Letterwinner Barrett Baker ('98) both shared their stories and gave some incredible advice and navigating the peaks and valleys of their next chapter. Shardonee and Barrett, thank you for taking the time to inspire our student-athletes and for representing the A-Club!!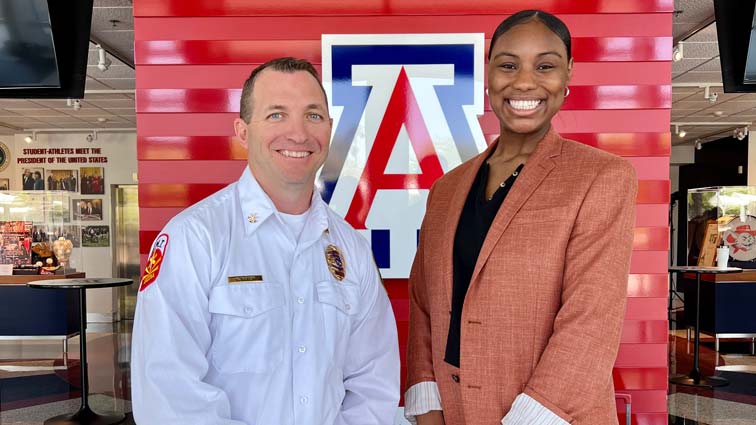 The A-Club is incredibly proud of all our Letterwinners that have gone on to pursue graduate degrees at the University of Arizona. This year, we had three letterwinners graduate with their medical degree from the College of Medicine, Track & Field Letterwinner Alyssa Thompson ('18), Cheer Letterwinner Grant Collins ('18), and Football Letterwinner ('17) Jake Matthews. Congratulations to the newest #MedCat graduates. Bear Down!
A New Golf Facility Coming 2024!
---
Attention Men's and Women's Golf Letterwinners- we officially broke ground for the William M. "Bill" Clements Golf Facility this month. Starting next year, this state-of-the-art facility, located at the Tucson Country Club, will be the new home for our men's and women's golf programs. If any Arizona Letterwinners have an interest in contributing to this elite golf facility before the grand opening next year, there's still time to contribute to the project. Click here for more information!
The "My Team Shop" will launch on June 1st - June 15th. A-Club members can simply click on the links below, choose your items, securely check-out, and your Arizona sport specific branded apparel items will ship to you in about 7 weeks after the shop closing date. Happy shopping.
JOIN THE BEAR DOWN NETWORK
---
Join the Bear Down Network to help our current student athletes with career and life advice but also learn more about how you can elevate your own career! Please note our CATS Connect Mentorship Program will communicate through the Bear Down Network. Click here to create an account and join the network (this platform is similar to LinkedIn but, exclusively for Wildcats).
SIGN UP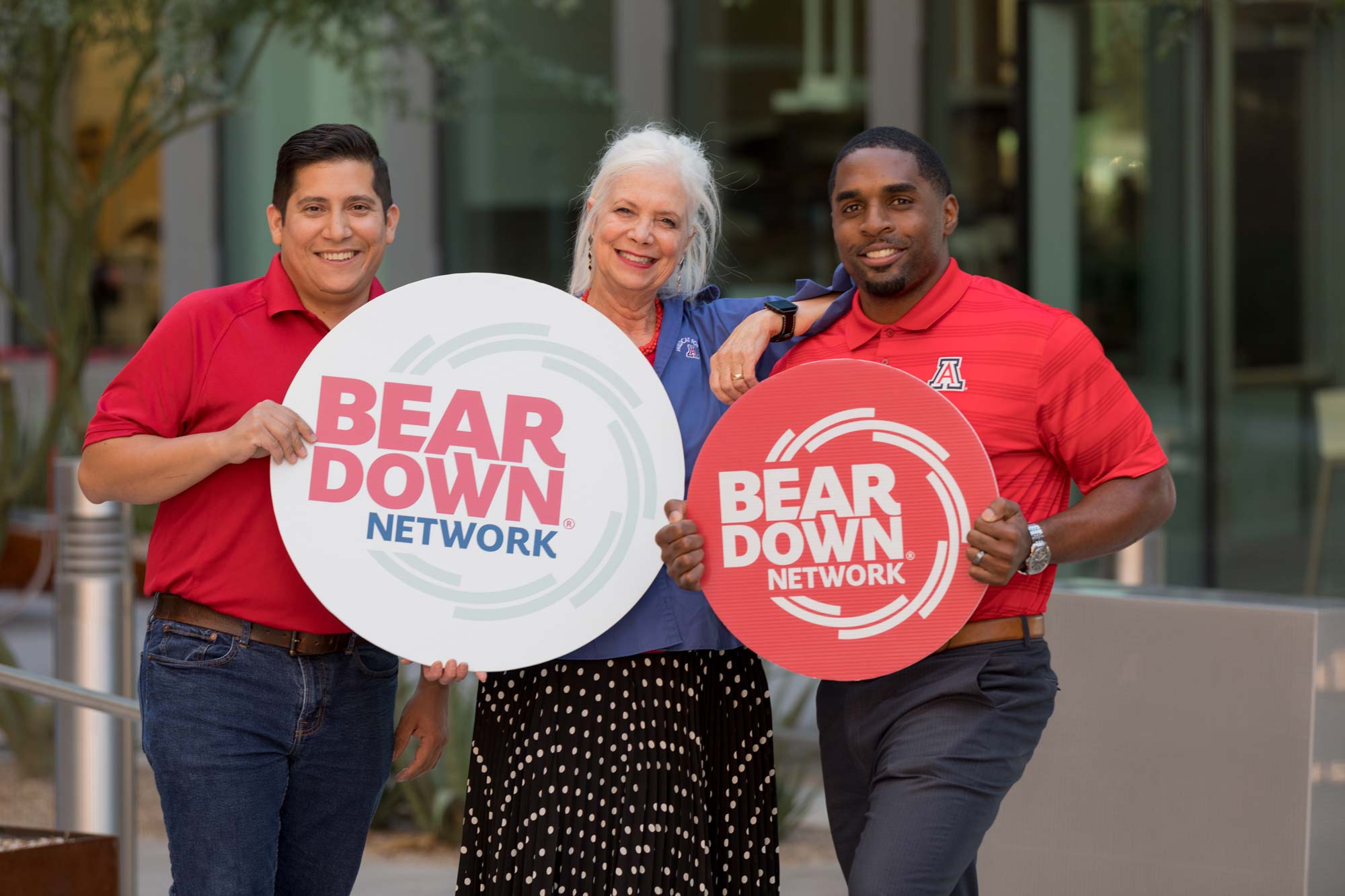 CATS Give Back
There are many ways to give back as a Letterwinner from giving your time to provide career advice to student-athletes or by giving directly to your Arizona sports program. If you are interested in giving philanthropically, click the links below.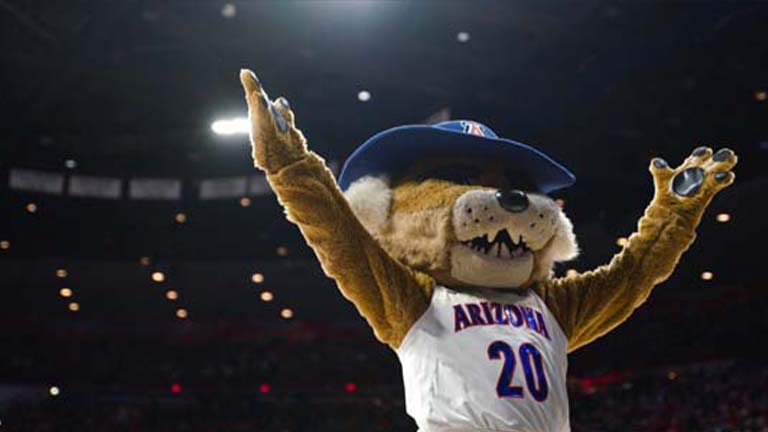 Wildcat Scholarship Fund
---
Pooled fund to benefit Arizona's 21 individual sports that supports room, board, books, fees and meals for student-athletes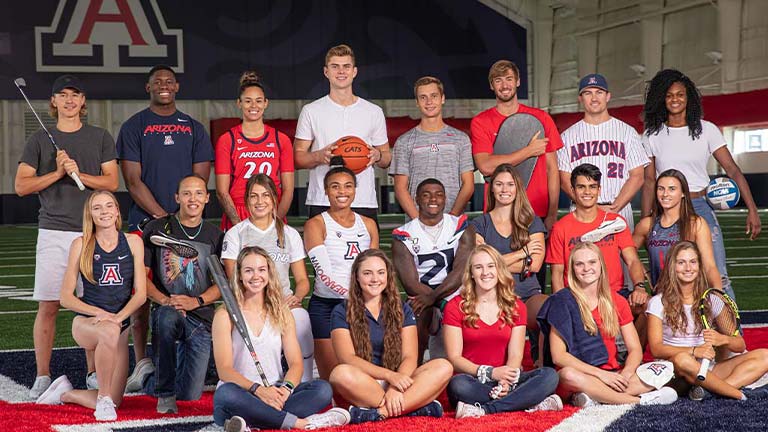 Individual Sports
---
Support individual sport scholarships or sport operations
UPDATE YOUR A-CLUB INFO
---
Not receiving our emails about upcoming events or ways to get involved? Make sure to update your information by following the link below
Do you have any photos from when you were a student-athlete or ones of you currently showing your Wildcat spirit? Send them to us on any social media platform or by emailing us at letterwinners@arizona.edu for a chance to be featured!
CONTACT US
We have a New Director!
---
---